Journal Entry:
Sun Jun 24, 2012, 7:47 PM
Things I wanted to share ~
Hiya people !
Some time ago I had commissioned
ProfessorPemzini
for a coloured sketch of mah characters, and it is finished !
Woot !
Here it is if you want to have a look :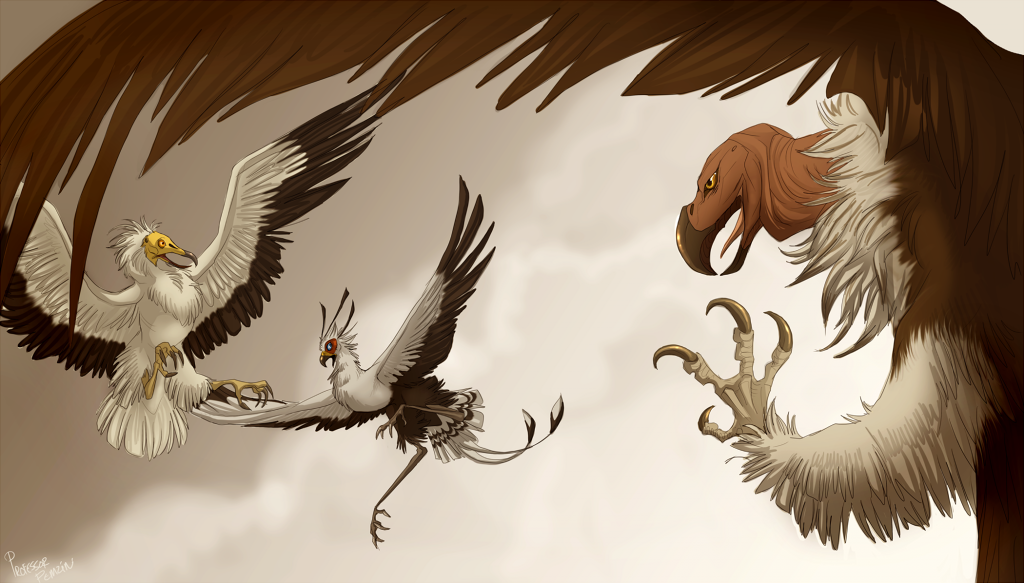 by

(Damn it why can't we use :thumbxxxxx: codes with Sta.sh

)
It wasn't supposed to have a background, but he decided to put a quickie-background nonetheless, and I am grateful ~
Commission was supposed to be something like uh...26 USD or something like that, but I decided I'd pay 32 USD instead. Don't ask why, I have no idea. XDDD
The Lappet-Faced Vulture on the right is an antagonist in my story, I am still working on how big his role as such will be, but he isn't on their side, that's for sure. xD
Feel free to comment in Sta.sh about it if you want. xD
I also have a Tumblr account, if you want to follow me there !
On there I will have sketches, WIPs, or unfinished works, and maybe Concept and Development pictures (since if everything's okay, I'll be in Uni next year).
So if you guys want to follow, it's here :
Serenity Birdtumblr
I hope to, little by little, dedicate this Tumblr exclusively for my art, that I find isn't worth DeviantART.
Feel free to message me there or follow me.

Well, you guys should also absolutely listen to
The Last Samurai
soundtrack (wonderful movie), and this :
www.youtube.com/watch?v=d2hRTL…

If you don't listen to that music in the link, I'll bite your head off. >8C
Well, that's about it ~
Thanks for reading !

Listening to: Kung Fu Panda 2 OSTs
Reading: Vengeance of the Dragon
Watching: Kung Fu Panda 2
Playing: With my pencil

Watch